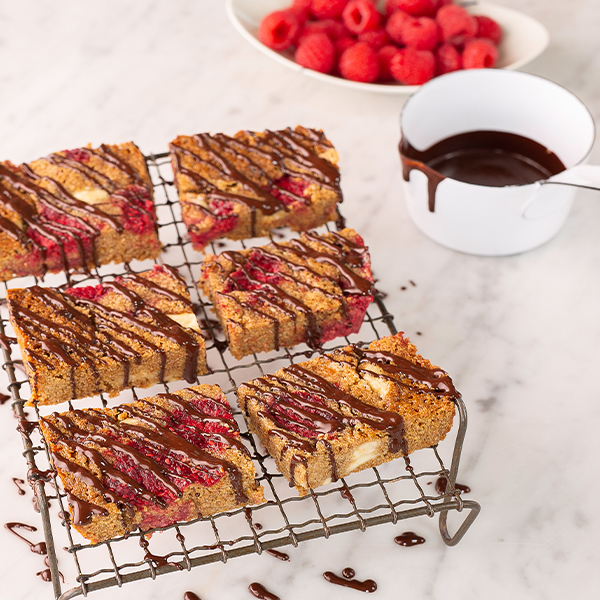 Baking
White Chocolate, Raspberry and Coconut Flapjack
We wanted a flapjack recipe which was higher in fibre but still wonderfully chewy and sweet. We used fibreful original oatbran, fresh raspberries and coconut and the result was spot on. Enjoy with your afternoon cuppa, post-workout or even for breakfast, if you're feeling naughty.
Cooking Time: 30 minutes
Skill Level: Medium
Serves: 9 slices
300g fibreful original oatbran
50g vegan butter
50g coconut oil
100g coconut sugar
6 tbsp. brown rice syrup
2 tbsp. desiccated coconut
100g dairy-free white chocolate
100g fresh raspberries
25g dark chocolate, melted for topping
Preheat the oven to 180c and line a 9×9 inch square pan with baking paper
Melt the coconut oil, butter, sugar and brown rice syrup together in a saucepan over a low to medium heat.
Pour into a bowl along with the oatbran and desiccated coconut, then combine.
Stir in the raspberries and white chocolate chunks, then transfer to the pan, pressing down the mixture nice and tight with the back of a spoon.
Bake for 20 minutes, or until golden brown.
Remove from the oven and leave to cool completely before slicing into 9 even squares.
Once cool and sliced, drizzle over the melted dark chocolate and leave to set.
Store in an airtight container in the fridge for up to 3 days.