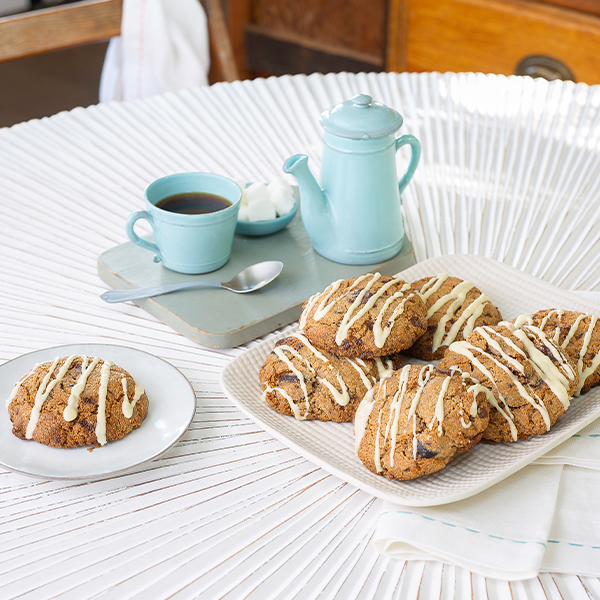 Baking
Salted Tahini, Cherry and Oatbran Cookies
If you've never tried baking with tahini, the sesame seed paste usually found in hummus, then you NEED to try these amazing cookies. Salty, sweet and covered in melted chocolate, these are a guaranteed hit at bake sales, at the office, or at home.
Cooking Time: 25 minutes
Skill Level: Medium
Serves: 8 cookies
150g fibreful original oatbran
125g tahini
50g dark chocolate chunks
60ml maple syrup
60ml coconut oil, melted
50g ground almonds
100g glazed cherries
1 tsp cinnamon
½ tsp baking soda
Preheat the oven to 180c and line a large tray with baking paper.
Put the tahini, maple syrup and coconut oil into small bowl and stir until well combined, then set to one side.
Put the fibreful original oatbran, ground almonds, cinnamon and baking soda into a mixing bowl, then stir in the tahini mix. Once combined, stir in the cherries and dark chocolate chunks.
Scoop 1/4 cup of the cookie dough onto the tray. Use your hands to lightly press the dough down until a circle shape has formed, then repeat this process with the rest of the dough.
Bake for 10-15 minutes or until the cookies have turned golden brown.
Allow the cookies to cool completely before transferring to a cooling rack.
Store in an airtight container for up to a week.