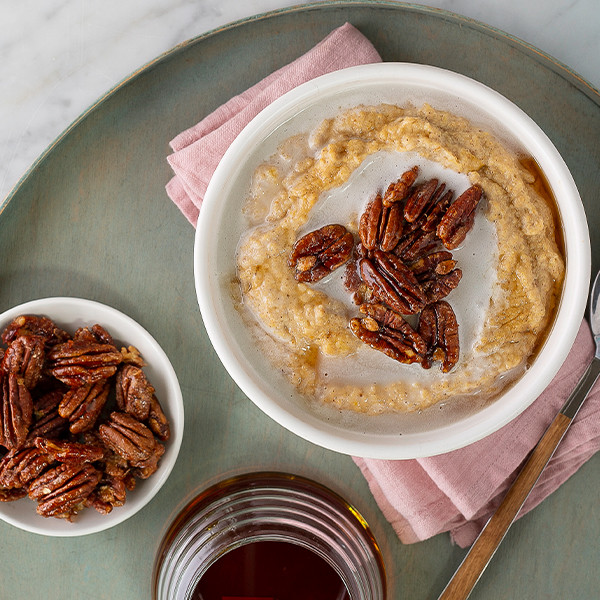 Porridge
Pumpkin Pie Oatbran
We decided it's just a bit too naughty to have pie for breakfast, so we have this high fibre pumpkin pie oatbran instead. Made with warming spices and topped with caramelised pecans, it tastes just like the real deal.
Cooking Time: 10 minutes
Skill Level: Easy
Serves: 1
60g fibreful original oatbran
2 tbsp. pumpkin puree
1 tbsp. coconut sugar
240ml almond milk
½ tsp. cinnamon
¼ tsp. ginger
⅛ tsp. nutmeg
Toppings
Caramelised pecans (A handful of pecans + 1 tbsp maple syrup)
A drizzle of coconut cream
A drizzle of maple syrup
Put the fibreful original oatbran and almond milk into a small saucepan along with the pumpkin puree, coconut sugar and spices.
Bring to the boil and simmer for 5-10 minutes, stirring often.
Once the porridge has thickened to your desired consistency, serve in a bowl with the caramelised pecans, coconut cream and maple syrup.
To make the caramelised pecans, preheat the oven to 200c and line a baking tray. Toss the pecans in the maple syrup, then spread out onto the tray. Bake for 10 minutes, then stir and bake for a further 5 minutes. Remove from the oven and leave to cool.