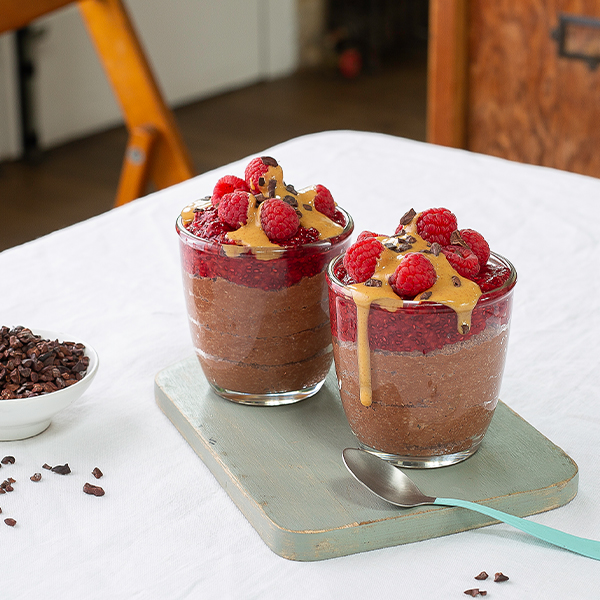 Porridge
Peanut Butter, Raspberry and Chocolate Oatbran Parfait
Say hello to this amazing parfait. Blended with peanut butter, cacao and almond milk until thick and creamy, it makes a tasty dessert or a breakfast worth saving for special treats and weekends.
Cooking Time: 15 minutes (or overnight)
Skill Level: Easy
Serves: 1
60g fibreful original oatbran
120ml almond milk
2 tbsp cacao powder
1 tbsp peanut butter + 1 tbsp for topping
2 tbsp chia jam (125g frozen raspberries, 1 tbsp chia seeds + ½ tbsp maple syrup)
1 tbsp cacao nibs
A few fresh raspberries
Put the fibreful original oatbran, almond milk, cocoa powder and peanut butter into a small bowl and stir. Set aside for 10 minutes (or overnight) to thicken.
To assemble the parfait, put the mixture into a small jar. Top with 2 tbsp chia jam and a couple of fresh raspberries. Drizzle over 1 tbsp peanut butter and sprinkle over the cacao nibs.
To make the chia jam, put the frozen raspberries in a small pan and cook over a medium heat until the raspberries have thawed and broken down. Stir in the chia seeds and maple syrup, then cook for another couple of minutes. Remove from the heat and let it stand for 5 minutes, or until it has thickened. Once the jam has cooled, transfer to a jar and store in the fridge until ready to use.