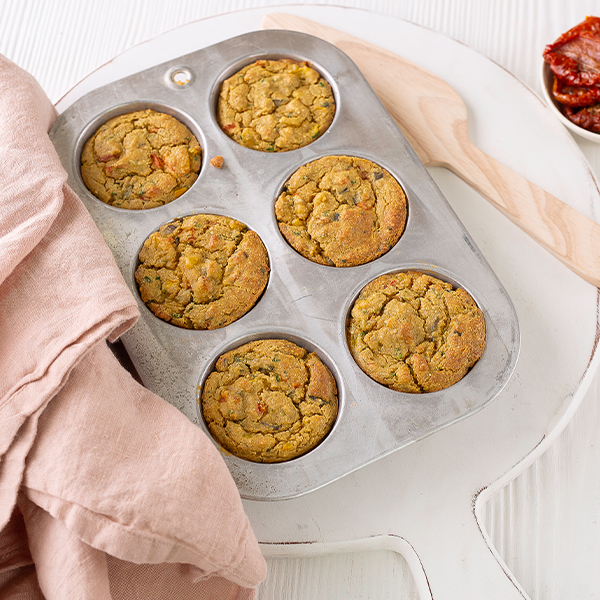 Baking
Mini Breakfast Frittatas
Perfect for busy mornings when you just don't have time to scramble eggs, these mini breakfast frittatas are filled with plenty of nutritious vegetables, as well as fibreful original oatbran and tofu. Simple pack to go and enjoy them later.
Cooking Time: 30 minutes
Skill Level: Medium
Serves: 12
120g fibreful original oatbran
120g gram flour
20g nutritional yeast
½ red pepper, finely diced
½ yellow pepper, finely diced
½ red onion, finely diced
8 sun-dried tomatoes, diced
1 tsp. baking powder
1 tsp. garlic powder
¼ tsp. black salt
Fresh herbs (rosemary and chives)
Pinch of pepper
300g silken tofu
240ml water
1 flax egg (1 tbsp flaxseed + 3 tbsp water)
Toppings
Dairy-free creme fraiche
Fresh chives, chopped
Preheat the oven to 200c and lightly grease a 12 hole cupcake tin.
Put the fibreful original oatbran, gram flour, nutritional yeast, finely chopped vegetables, baking powder, garlic powder, black salt, pepper and fresh herbs into a large mixing bowl and stir.
Blend together the silken tofu and water, then pour into the mixing bowl along with the flax egg and stir until well combined.
Pour ¼ cup of mixture into each of the holes, then bake in the oven for 20 minutes, or until a
toothpick comes out clean.
Serve with dairy-free creme fraiche and chopped chives.