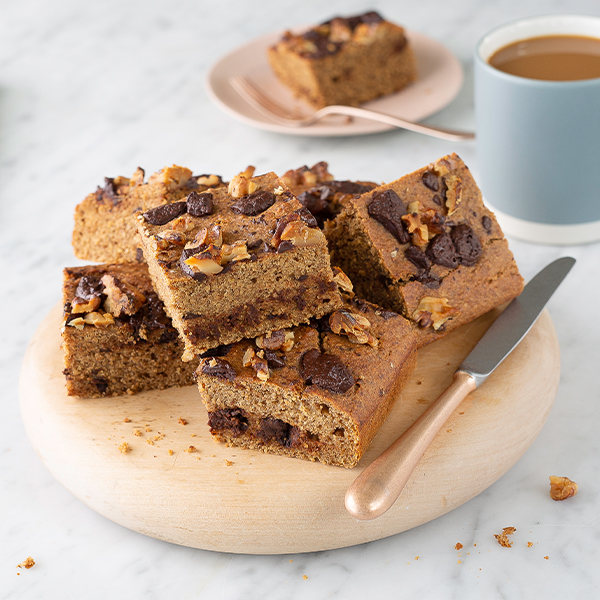 Baking
Choc Chunk Banana Bread Blondie Squares
You thought banana bread couldn't get any better? Wait until you try our squidgy, moreish blondies made with fibreful original oatbran, for a hit of fibre, then studded with chocolate chunks and walnuts. There's no stopping at one with these squares.
Cooking Time: 30 minutes
Skill Level: Medium
Serves: Makes 9
200g mashed banana (2 large bananas)
140g fibreful original oatbran
75g brown rice flour
120ml almond milk
125g almond butter
60g coconut sugar
1 flax egg (1 tbsp. flaxseed + 3 tbsp. water)
1 ½ tsp. cinnamon
½ tsp. of baking powder
75g dark chocolate chunks + 25g for topping
A handful of chopped walnuts
Preheat the oven to 200c and line a 9×9 inch square tin with baking paper.
Put all of the ingredients except from the dark chocolate chunks into a food processor and process until you have a smooth mixture.
Stir in 75g of the chocolate chunks, then transfer the mixture into the lined tin. Sprinkle the remaining chocolate chunks on top of the mixture along with the chopped walnuts.
Bake in the oven for 20 minutes, or until a toothpick comes out clean.
Store in an airtight container in the fridge for up to 3 days.