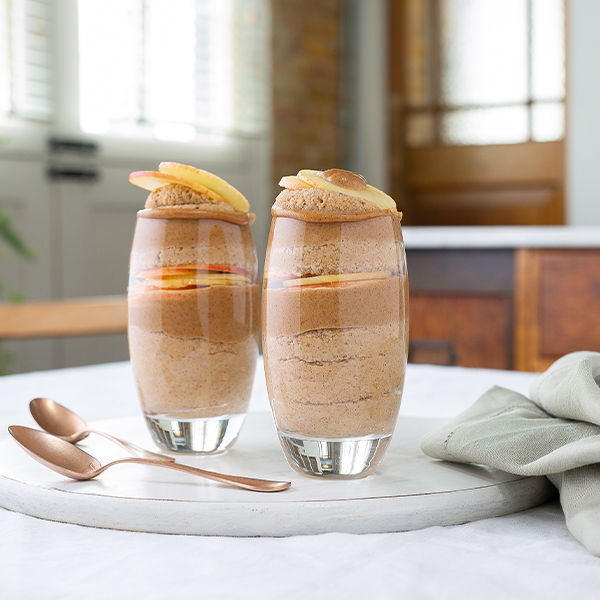 Porridge
Caramel Apple Overnight Oats
Caramel and apples, what more could you want for breakfast? How about coconut kefir, fibreful original oatbran and a squeeze of maple syrup? This high fibre breakfast has them all. Layer up and tuck in, we guarantee it will make your day.
Cooking Time: 20 minutes (or overnight)
Skill Level: Easy
Serves: 1
60g fibreful original oatbran
120ml coconut kefir
½ apple, chopped
3 tbsp. date caramel (12 medjool dates, 2 tbsp almond butter + ¾ cup almond milk + a pinch of salt)
1 tbsp. white chia seeds
1 tbsp. maple syrup
1 tsp. lucuma powder
½ tsp. cinnamon
Put the fibreful original oatbran, coconut kefir, chia seeds, maple syrup, lucuma and cinnamon into a small bowl and stir. Set aside for 10 minutes (or overnight) to thicken.
To assemble the parfait, put ¼ cup of the mixture into a jar, layer with 1 tbsp date caramel and then ¼ of the chopped apple. Repeat this process until the jar is full.
To make the date caramel, pit the dates and then put them into a high speed food processor along with the almond butter, milk and salt. Process until you have a smooth date caramel. Transfer the caramel into a jar and store in the fridge until ready to use.